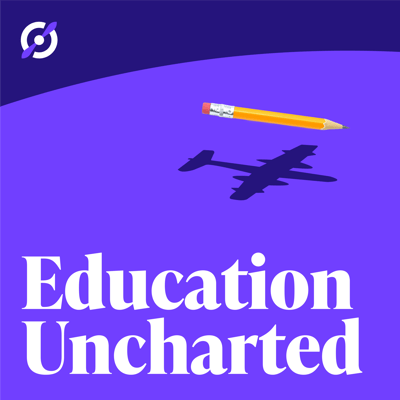 Podcast
Education Uncharted
A Podcast for K-12 Educators Daring to Shift the Status Quo
Podcast Episodes
Hear from Education Innovators
Featuring Natalie Wexler
Teaching Content vs. Teaching Skill
Writing skills. We all know it's important for students to have, but what's the best approach and how do you teach them in a way that's both interesting and impactful?

Author of The Knowledge Gap, Natalie Wexler, joins host Amanda Bratten to share what she's learned in her research and observation. It all started when Natalie discovered the lack of coverage of education reform in DC, which inspired her to write about education to help teachers blaze a new path forward.

In this episode, she shares how long-term memory storage of relevant information helps relieve the burden on working memory, allowing for better understanding and retention of new information. She also discusses the Hochman Method of writing that she covers in the book she co-wrote with Judith Hochman, The Writing Revolution, and how this method reinforces existing knowledge in a practical, but interesting way.

You'll learn:

How to improve students' reading comprehension by teaching content knowledge along with reading skills
How to encourage knowledge building through writing
Why reorganizing classroom libraries by topic, not just reading level, will help your students' comprehension skills
Key Moments to Listen for:

[02:01] Getting to know Natalie

[03:38] Inspiration for writing The Knowledge Gap

[07:21] Comparing skills-focused with knowledge-building curriculum in early elementary classroom

[13:21] A good curriculum focuses on building knowledge logically through read-alouds and discussion

[18:54] The value of content-based questions and organizing classroom libraries by topic

[25:51] Reinforcing methods from The Writing Revolution
NATALIE WEXLER

These comprehension skills and strategies are what's really going to enable kids to understand complex text down the road. If you get good at finding the main idea, you'll be able to apply that skill to any text that's put in front of you.

AMANDA BRATTEN

Education Uncharted is a show from Propello a K- 12 teaching and learning platform that helps districts and teachers give every student a first- class learning experience. I'm your host, Amanda Bratten, exploring the stories of courageous educators that have broken out of the status quo to chart new paths and boldly innovate in the ever- changing landscape of education. In today's show, we'll explore how cognitive science plays a role in our pedagogical approach. Today's guest is Natalie Wexler, an education writer and author of The Knowledge Gap, the Hidden Cause of America's Broken Education System and How to fix It. Natalie's articles and essays on education and other topics have appeared in The New York Times, The Washington Post, The Atlantic, The Wall Street Journal, and other publications. She has spoken on education before a wide variety of groups and appeared on a number of TV and radio shows, including Morning Joe and NPR's On Point, and 1A. I'm really looking forward to speaking with Natalie today as her work has helped to inform my own why as I move through my career as an educator and curriculum professional. Welcome, Natalie. It is so great to have you here today. I am really looking forward to our chat. You are definitely somebody who's inspired me, and I know lots and lots of other people out there to continue to move forward and make change in education. So, thank you again for showing up today. I wonder if maybe we can start by just letting you give us a little bit of a background to the journey that you've taken over your career, starting with your steps to become a reporter all the way to the educational research and authorship that you're doing now.

NATALIE WEXLER

Well, I don't think you want all the steps. I mean, would be here for quite a while. I've had a circuitous journey, but I did spend one year as a reporter, but that was quite a while ago, and I've done a number of things. I've worked as a professional historian before that I got a law degree. I practiced law for all of eight months. A number of things, but journalism is something that I've kept returning to over and over. So about... I don't know, maybe 12, 13 years ago now, I decided to go back to writing and I'd been doing it on and off, but I was particularly interested in education because it just seemed incredibly important. And I began to realize I live in Washington DC where at the time there was a lot of education reform activity. And as I got more interested in what was going on and started going around to schools and I realized that there wasn't enough coverage of all of the stuff that was going on, I was particularly interested in what we sometimes call the achievement gap, the gap in test scores essentially between kids at the upper and lower ends of the socioeconomic spectrum. And I wanted to figure out why we'd made so little progress in narrowing that, especially at higher grade levels. So, I started writing about education specifically then mostly for a local news website, and I learned a lot through doing that.

AMANDA BRATTEN

Excellent. And I wonder, did part of that discovery process, was that in your development of the writing revolution, was that kind of what really started to get you thinking? Or was it even before that?

NATALIE WEXLER

Well, simultaneously with writing about education, I decided to try tutoring some students, and I thought it seemed like the problem was really at the high school level. And I thought, well, this would be one way to maybe be useful because I know writing is hard to teach and I could tutor some students in writing since I'm a writer, I know how to do that. And I also thought it would give me some insight into what was going on in high schools and what the problem was there. And it did to some extent, but while I was trying to tutor these kids in writing... and what I discovered was that they were not getting any writing assignments. And when I tried giving them some writing assignments and I didn't want to do creative writing with them, I wanted to do the kind of writing they would be expected to do in college. And I realized couple of things when I brought in articles or things, I'd written for them to write in response to, I realized that no one had taught them the basics of writing, what is a sentence? And I also realized that there were gaps in their knowledge of the world that were preventing them from understanding the articles I was showing them, which seemed to me pretty straightforward. These were 10th graders, I thought they'd be able to understand them, didn't know what the Supreme Court was, for example, even though we were at the time only 17 blocks from the Supreme Court. And I was very puzzled by this. So, while I was doing this, an article came out in the fall of 2012 in The Atlantic magazine called The Writing Revolution. And I read that article and it was about a method that was used at a low performing high school in New York City that had really helped to turn the high school around, and it taught both writing schools and it built knowledge at the same time. And I thought, " Wow, this is what these kids need." Because there was nothing wrong with their brains. They just hadn't been given access to the knowledge they needed. And then through a complicated series of events, I met Judy Hochman, the woman who created this method that was used at that high school and got to know her and admire her, and eventually was on the board of this organization she started, and then eventually co- authored a book with her called The Writing Revolution, and the organization is also called the Writing Revolution. So that's how that happened. So that was happening before I got the idea to write this book, the Knowledge Gap, but it was Judy Hochman who set me on the path to writing, The Knowledge Gap because at the time that I met her, I was on the board of a charter school that was an elementary school, and I thought, " Gee, wouldn't it be great if that school could use this method of writing instruction?" And I asked Judy if she could look into that, but she came back to me and said, " Well, the problem is that this method really only works if it's embedded in the content of the curriculum and your school isn't really teaching any content." And I was like, " What?" I thought I had no idea what she was talking about. So, she explained to me a little bit, and that got me started on the road that ultimately led to writing The Knowledge Gap.

AMANDA BRATTEN

Excellent. Yeah. I think that we're walking into classrooms every day where that knowledge building is just not a part of the game, but is such a passionate part of what younger children are about, right? I wonder if we could talk a little bit more about that. As you began to do that research and you're sitting in on classrooms, what did you see as you compared a classroom that really was very focused on the skill building as opposed to a classroom where there was an integration of that skills and knowledge kind of combining? Can you just tell me a little bit about that?

NATALIE WEXLER

Yeah. And I will say, wasn't that I'd never been in elementary classrooms before, but I just hadn't... I'd been there for five or 10 or maybe 15 minutes at maximum, and that's really not enough time to understand what's going on. But also, once I learned about how reading comprehension works and the importance of building knowledge and the fact that most elementary schools were not trying to build knowledge, but they were focused on these reading comprehension skills and strategies, then I really was able to see what was going on in the classroom in a much clearer way. But one of the things that I did for the book as part of my research was to follow a couple of early elementary classrooms through a school year to compare what is a comprehension skills focused curriculum look like versus what does a knowledge building curriculum look like? And the differences were really dramatic. I mean, that was kind of an afterthought. I only came up with that idea of following those classrooms after my publisher said to me, well, sort of an offhand comment. She said, " Well, of course you'll need a narrative arc. And I was like, " Oh, oh, yes, of course." But I had no idea what I was going to do for narrative arc, but I thought, " Well, maybe if I follow these classrooms through a school year, that'll sort of be a storyline." And it was and it also, I think, was an incredibly illuminating part of the book. So, the skills focused classroom, the teacher was putting a skill of the week, usually in the foreground this week we're working on sequence of events or this, we are working on main idea and details. And she was using a textbook, a basal reader as they're sometimes called that had texts chosen, not really for their topic, but for how well they would lend themselves to demonstrating the skill of comparing and contrasting or whatever. She was a good hardworking teacher, but the kids were just not that interested in what she was trying to teach them. They were six- year- olds. And so, they didn't have that much to say about the difference between a caption and a subtitle and the abstract. They wanted to know what's going on in that picture that has the caption. But the teacher with the best of intentions felt that it was more important for her to focus on the difference between the caption and the subtitle because that's what her training and her instructional materials and the tests were all telling her she should focus on. So, those kids were just not very engaged in what they were supposedly learning, and they weren't really learning that much of value. The other classroom that was using this curriculum that was very rich in what we would consider very sophisticated content for early elementary students, they were way more engaged. They were having incredibly thoughtful discussions about things like the War of 1812 or the Trail of Tears or Greek myths. They were highly engaged. And these kids, they were second graders, not first- graders, but they weren't that different demographically from the kids in the other classroom. In both classrooms kids were from low- income families, they were all children of color. The difference really was the curriculum. And these second graders who were getting the content rich curriculum, I should add, they had gotten it since kindergarten. So, they already had learned, for example, when they came to the War of 1812, they'd already learned about the American colonies. They'd learned about the revolution. They had the background knowledge, they needed to understand it. And they were having these great discussions, they were highly engaged, and they were learning vocabulary words like, oh, desperately, plummeted, foresight because they were encountering them repeatedly in an engaging context. And those are words that will serve them very well in years to come. And it wasn't that the teacher was never asking them to make a prediction or to connect prior knowledge to new knowledge. I mean, the curriculum was helping her bring in those kinds of skills and strategies as appropriate to the content she was trying to teach, rather than trying to teach the skill and bringing in some text in service of teaching the skill, and that's what works. And by the way, when she tried to activate their prior knowledge or ask them about their background knowledge, well, they actually had some relevant prior knowledge to activate because the curriculum had made sure that they had learned the stuff that would enable them to understand what she was trying to teach.

AMANDA BRATTEN

Sure. So, they were actively making connections to the knowledge that they had built, not only in the classroom, but also just through their daily life, bringing in those funds of knowledge to help kind of make sense of what it was that they were learning?

NATALIE WEXLER

Well, they were doing both, but I would say primarily what I saw was that they were relying on the knowledge that had been built through the curriculum. And sometimes the teacher would prompt it, but sometimes they would volunteer it. So, there was a reference to a white flag of surrender, I think during the War of 1812. And one little girl said, " Oh, I remember that from first grade. They did that in the American Revolution too, that thing about the white flag." By the way, so about half of them came from Ethiopian families, and the teacher told me about one day when they were talking about Alexander the Great, and she asked this rather sophisticated question, was Alexander the Great's ambitious nature a good thing or a bad thing, basically, was it an inspiration to his followers or was it a flaw? And the kids said, " Well, he was invading other people's land, so it was a bad thing. And the teacher pointed out, " Well, if you were one of his followers, you might think that was a good thing." But then the kids who were from Ethiopian backgrounds, they said, and she didn't know where exactly what they were referring to, but they said, " Well, people invaded our Ethiopia, and that was a bad thing." So, they were making some connections to what they knew from the outside. So, it's a combination.

AMANDA BRATTEN

So, for those listeners who may just be getting onto this understanding of what you have brought to the conversation with The Knowledge Gap, can you tell us why all of this matters? When we're talking about learning to read and teaching reading, why does it matter that we're building this knowledge?

NATALIE WEXLER

Yeah. Good question. It's complicated, especially I think if you're an educator who has been deeply steeped in this idea that these comprehension skills and strategies are what's really going to enable kids to understand complex text down the road. If you get good at finding the main idea, you'll be able to apply that skill to any text that's put in front of you. But cognitive scientists have found that that's really not the way reading comprehension works. What is more important than general skill is not relevant prior knowledge. Now, that could be knowledge of the topic you're trying to read about. And there's this famous study called the baseball study that showed that basically poor readers who as determined by a standardized test who were baseball experts did really well when they were as comprehenders when they were reading about baseball, whereas the good readers who didn't know about baseball did much worse when they were reading about baseball-

AMANDA BRATTEN

That would be me.

NATALIE WEXLER

... So, yeah, metoo. But it's not just knowledge of the topic that's helpful. It is also general academic vocabulary and something that's often- overlooked familiarity with the complex syntax, the sentence structure of written language. Written language is always more complex than spoken language in terms of both vocabulary and syntax. But the only way to get familiar to acquire that general academic vocabulary and that familiarity with complex syntax is through knowledge of specific topics, a lot of specific topics, because that vocabulary does not stick in the abstract unique context to give it meaning. And the same with syntax, it's just not going to... it's just having kids diagram sentences for most kids does not transfer over into their own writing or into their familiarity with things like subordinating conjunctions when they encounter them in their reading. The root to that valuable general knowledge is through knowledge of specific topics. But what's going on in the mind has to do with our working memory, which is the part of our consciousness where we are taking in new information and trying to make sense of it, or we're learning in other words. And the important thing to know about working memory is it is very limited in its capacity it can only juggle maybe four or five things for about 20 seconds before it starts to get overwhelmed. And we start to lose the capacity to understand what we're trying to take in. And the best way around the limits on working memory is to have a lot of stuff stored in long- term memory, which is potentially infinite. And if you can just withdraw relevant information from long- term memory, you don't have to juggle it in working memory along with the new information you're trying to take in. If you're reading about baseball and you already know what a double play is or some of that lingo, you don't have to think about it. You don't have to go off and look it up, all of which imposes a burden on working memory. You have more capacity to just take stuff in and attend to the meaning and absorb it and retain it. And the way this plays out in a typical elementary classroom during the ELA block, the way a curriculum enables it to play out a good curriculum that builds knowledge logically, that focuses on content and that relies on read alouds and discussion primarily for building knowledge. Read alouds are crucial because before they are fluent readers, they can take in more sophisticated information concepts through listening than through their own reading. Again, that has to do with working memory, because if somebody else is doing that work of decoding for you or figuring out where the emphasis goes in a sentence, you have more capacity to just attend to the meaning and take it in. So teachers should be reading a complex text more complex than kids could probably read on their own, and then asking questions that focus on the content so that kids get a chance to talk about what they've just heard, use that new vocabulary because that really helps transfer new information to long- term memory, explaining it to somebody else in your own words. And then now they have some information stored in their long- term memory that will enable them to read about that topic at a higher level, and also to write about that topic at a higher level because they don't have to juggle new information along with the demanding tasks of reading and writing. But that only works if they are reading and writing about the same topic they've been listening to and speaking about. And unfortunately, in our current system, they might be listening to a text about sea mammals. The conversation would focus on author's purpose or whatever, some skill rather than the content. Then they might be reading about it yet a different topic and writing about yet a different topic, and that is making reading and writing harder than they need to be.

AMANDA BRATTEN

Uh- huh. So, what would you say to teachers who are working in districts that have not yet jumped onto this idea of understanding that knowledge building is a key component to literacy, right? What would you suggest that teachers do if they're ready to take that leap within their own classroom without maybe having the curriculum that's embedded? What are some things that they can start doing now while maybe they're waiting for something to be adopted or they're pushing their administrators to start thinking about these things? What can they be doing now?

NATALIE WEXLER

Yeah. I hear from a lot of those teachers. There are things they can do. I mean, I would say one thing is to see if you could get permission to do a pilot of one of the half dozen or so curricula that are out there because it's going to be a lot easier if you've got a curriculum that has done a lot of the work for you, and that builds knowledge in a logical sequence across grade levels because no teacher can control what happens at other grade levels, but there are things that individual teachers can do. One is to rather than focusing on a skill of the week and jumping from topic to topic, choose a topic to spend two or three weeks on at least, reading a series of texts about that topic. Let's say it's sea mammals or it could be a lot of different things, but it shouldn't be too broad because the idea is that kids need to hear the same vocabulary, the same concepts repeatedly in somewhat different contexts for those things to really stick in long- term memory. And then the questions that you ask should be focused on the content rather than the skill you can bring in. And as I mentioned that teacher in that second- grade class was doing, you could bring in like a question about making a prediction, but it only went appropriate to the content and also putting the content in the foreground. So, for example, when that teacher, they were... She had done a read aloud. She was doing a read aloud about the myth of Daedalus and Icarus when they were doing unit on Greek myths. And she asked the question, " What is Daedalus' plan?" All that is asking kids to make a prediction, but it's putting the content in the foreground, and that seems to work better. Third classroom libraries, rather than having them organized just by reading level, which those reading levels are just approximations, they're not really scientific because they don't take account of the topic and their reader's background knowledge. So, instead of just having them organized by reading level, have a basket on a particular topic, especially if it's a topic that you've just been reading aloud about and discussing. Remember the baseball study, kids might be able to read at a higher level once they have background knowledge of the topic. If you've been talking reading about and talking about sea mammals, have a basket of books about sea mammals at different levels of difficulty.

AMANDA BRATTEN

Uh- huh. Yeah. I mean, that's a way for reusing those leveled texts in a way that you know, don't have to get rid of them to feel that you're doing the right thing as long as they're sorted in a way that makes sense to building that knowledge.

NATALIE WEXLER

Absolutely. And then two more things. The fourth thing is to spend lots of time on meaty social studies and science topics. Fiction, poetry definitely has its place in the elementary classroom, but it has been found that those social studies and science topics have the most potential to build the kinds of vocabulary that is going to fuel reading comprehension. And it doesn't have to be just informational text could be stories like biographies, biography of a scientist or story from history or historical fiction. And lastly, have kids write in a manageable way about what they are learning about. Remember, it's going to make it easier for them to write as well as read if they already have some background knowledge. And it has been found that when kids write about what they are learning in any subject at any grade level, it boosts their learning. It boosts their comprehension and their retention of information.

AMANDA BRATTEN

And is that writing, is it meant to just kind of ingrain that understanding in their minds? Or is it okay to say, I'm going to also incorporate some of these language skills into that writing? When is that okay? Or is it always, okay? Obviously, we use writing in a lot of different ways in a classroom. What seems to be the best way to allow students to incorporate or embed that knowledge?

NATALIE WEXLER

Well, writing instruction accomplishes several objectives at the same time. If it's done in a way that that really enables students to get the benefits of it, writing is a skill in itself that's hugely important. It's also potentially the most powerful lever we have for deepening and cementing knowledge and vocabulary. And it also is a tremendously powerful way of familiarizing students with that complex syntax of written language. Read alouds can help with that, but if you teach a kid to use a subordinating conjunction in their own writing, they're in a much better position to understand it when they encounter it in their reading. But the problem is that writing is the most difficult thing we ask kids to do in school. So, if we want to accomplish all of these objectives simultaneously, we can, but we need to modulate that heavy cognitive load that writing imposes that heavy burden on working memory. Because if you're an inexperienced writer, you may be juggling everything from letter formation. And if you're young or you come from a different alphabetic system to spelling to what words to use, to organizing your thoughts, to the understanding the content you're writing about it's very easy for kids to get overwhelmed when we ask them to write. And this is part of the writing revolution method. It's really important to start at the sentence level with writing instruction if that's what kids need. Because if writing is hard, writing at length just makes it harder. And if kids get overwhelmed, they're not going to get the benefits of writing, and they're probably not going to learn to write well either. It and the writing activities should also be embedded as much as possible in the content of the curriculum rather than having kids write it just about personal experience. Personal opinion are topics in a separate writing curriculum that they may not actually know very much about. It's not using writing to build the knowledge that we really want kids to acquire. And then another thing that I should mention is teaching grammar and conventions. It has been found that it doesn't work to teach those things for most kids in the abstract doesn't carry over to their own writing, but it's also been found that most kids don't just pick them up if they keep reading and writing enough. They actually do need to be taught explicitly, but in the context of students' own writing. And it's going to be much easier to do that again, if you start at the sentence level, because if you're getting five pages of error filled pros, it's hard to know where to begin with correcting grammatical mistakes. It's much easier if you've got a sentence or two or three.

AMANDA BRATTEN

As a teacher, could I say we're learning about sea mammals for the next two weeks. One thing that we're going to do after we read this story as a class is I'm going to ask you to write down one sentence that stood out to you, or one fact that stood out to you. I mean, is that the way that I would apply that in a early elementary classroom? What do you think it would look like?

NATALIE WEXLER

Well, again, this is based on the writing revolution method. I did not create this method. Judy Hochman, my co- author did. But more powerful than saying, write down one interesting fact about sea mammals, which is again, kind of cognitively overwhelming because it's pretty broad and kids have to think about, it's better to give them some guardrails for their thinking, and also in the process, teach them specific techniques of syntax like using conjunctions. And so, one of the classic now, I think writing revolution sentence level activities is called because, but and so, and what that consists of is giving kids a sentence stem. It could be more than one, but the idea is to have them finish sentence stems with each of those three different conjunctions. So, let's say you've learned about sharks and now you're learning about sea mammals. You could give them a sentence stem like sharks are like whales because... and they could say, " Well, they both live in the ocean." Sharks are like whales, but whales are mammals or whales need air to breathe. Sharks are like sea whales. But what each of those conjunctions you're doing, it's having them retrieve something from long- term memory and put it in their own words, which is also putting something in your own words is a great way to transfer information to long- term memory. It's also a great way to reinforce existing knowledge in a way that makes that knowledge easier to retrieve when you need it, if you practice retrieval in that way. So that's why writing can be so powerful even at higher grade levels when there may be large gaps in kids' background knowledge, but if writing activities like that that are manageable and targeted can first of all help identify gaps in background knowledge that are preventing kids from understanding or accessing material at grade level, and also can powerfully reinforce new knowledge so that it sticks and even in the absence of prior relevant knowledge.

AMANDA BRATTEN

That's really helpful, and I think it brings to the forefront how easy it is to really as a teacher just tweak things in the direction of recognizing that I can be teaching content while I'm teaching reading and writing at the same time.

NATALIE WEXLER

In fact, it's crucial to be teaching content while you're teaching reading and writing at the same time. We have artificially separated those things, but it doesn't work. Those skills have very little meaning in the abstract. They really need to be tied to content. And by the same token, all teachers should be consider themselves reading and writing teachers as well as content teachers. Even in math, you can use the writing revolution activities in any subject math, Spanish, PE certainly science and social studies. It doesn't take away from say, math instruction to do an activity like because, but, and so. When math teachers try it, they realize it actually is turbocharging their instruction because it's getting kids to really think deeply about the content.

AMANDA BRATTEN

That's so interesting. And I wonder what... I know that there are a lot of teachers out there that are starting to make that transition content area teachers, even in middle school and high school, where they're recognizing the value of integrating literacy, the reading and the writing into their core content. What do you say to a teacher who feels a little bit hesitant? They say, " Oh, I'm not a writing teacher, that's not what I teach." or" I don't know how to teach reading. I'm just sticking with the content." What can you say to a teacher that is feeling hesitant to move into that space?

NATALIE WEXLER

Well, I can understand that teachers have not gotten good training in how to teach writing. It's hard to do. It's also hard to teach, but I do think I would suggest taking a look at the writing revolution, or there are excerpts that are out there online for free. So, if you want to dip a toe in without committing to buying the book, but it is a guide that can lead teachers through how to use this method. Ideally, if it's used at upper grade levels where there are different teachers for different subjects, it should be used consistently across the curriculum. But you can still... I mean, that's if you really want to turn kids into proficient independent writers, but even if it's just an individual teacher in an individual classroom, you can do a lot to reinforce and deepen knowledge by using the say those sentence level activities or the outlining. Another crucial aspect of the method is teaching kids how to create a linear outline, and both these things are particularly adapted to social studies instruction, I would say. And that I would really encourage social studies teachers to try some of these writing activities as part of their instruction.

AMANDA BRATTEN

So I don't have to know all the grammar rules. I don't have to have a style guide in my head to be able to do some of this work with my students.

NATALIE WEXLER

No. In fact, the Writing revolution method brings in grammatical concepts, but only insofar as they are helpful in helping kids learn to write. They don't talk about preposition phrases or certain concepts that like in a positive, which is a phrase describing a noun. That is introduced because it can be a very powerful way of enriching a sentence, it's also a construction that appears frequently in written language but not in spoken language. And it's also... it provides a shorthand for a teacher who wants to advise a kid on how to make their writing better or their sentence structure more interesting. Instead of just saying, make it better, make it more interesting, you could say, " How about using in a positive in your topic sentence?" And the kid will know, the student will know what that means and how to do it.

AMANDA BRATTEN

Fantastic. Natalie, this has been really enlightening. I am so grateful for your time today. Thank you for sharing some of these strategies a little bit more about what you have uncovered and the work that you're doing. I think that we can all learn a little bit from the work that you've done. Hopefully, we can learn a lot. And just taking that chance to tweak our learning and tweak our teaching in just those small ways can open up doors to greater growth. And I appreciate some of the tips and strategies that you've shared today. Is there anything else that you want to share with us?

NATALIE WEXLER

No, and I don't think so. I appreciate the opportunity. Thanks for inviting me, Amanda. It's been a great conversation. I would just say, I know this may all sound daunting. Teachers have so much on their plate and having spent a year in following these classrooms. I have enormous even more respect for teachers. But once you get past the steep learning curve, it's actually going to make teaching easier to build knowledge, it's going to enable your students to get more engaged, it's going to enable them to have more thoughtful discussions. Teaching, writing, I mean, I've heard from so many teachers, " Oh, my kids hate to write." It's so hard... if this kind of approach that makes it more manageable can turn reluctant writers into eager ones. So ultimately, these things will make your job easier.

AMANDA BRATTEN

Wow. What an amazing opportunity to chat with Natalie Wexler, the author of The Knowledge Gap. I want to give you a few takeaways. So, as you move on with your day, start thinking about your next steps in your classroom, in your school, or even in your world, if you're working out there as a non- educator or as a parent, these are all things that we can think about as we work with students, learners, and other people. So, first of all, I think one of the key things that we need to understand is that we need to educate ourselves on how our brains work. It is so, so important that we have some understandings of how our teaching works or doesn't work with the way that our brains operate, so that we can ensure that the information that we're trying to get across really sinks in. Obviously, next step, we understand that knowledge building is that piece of the puzzle that we've been leaving out in favor of reading block, right? In the classroom, so often we're focusing on skills and drills, and we kind of lost the meat of what connects to the real learning. That prior knowledge, building that prior knowledge, connecting to things that we know from our daily life is so, so valuable in ingraining that information. Not only does it help support our working memory to allow our brain to free up and work on the more difficult, heavy lifting of whatever it is that's more strenuous for our brain, it also improves engagement. And just really helps to give our students that opportunity to dig into the reality of the world around us and get excited and engaged with what we're doing. Finally, how can we begin to bridge that knowledge gap in our classrooms today? A couple of things that Natalie suggested, we can build topic units, so really focusing on the content and then bringing skills in an authentic way. We can reorganize our classroom libraries by topic, not by reading level. So, we really are providing students opportunities to build their understanding even in free reading opportunities. And then finally, ensuring that students are writing about what they're learning in every classroom so that they can put their new understandings into their own words. I'm Amanda Bratten. For more conversations with bold educators exploring uncharted territory, click the link in the show notes or visit propello.com/ learn to learn more.
Featuring Phil Cook
The Art of Storytelling within the Classroom
Teachers face an uphill battle as they strive to engage students and facilitate meaningful learning. Additionally, each student possesses a unique learning style and pace, making it difficult to design a one-size-fits-all approach to teaching.

TikTok superstar, Phil Cook, joins host Amanda Bratten to share what he's learned within his many years of teaching. For over two decades, Phil has learned what drives his student's overall retention, which led him to integrate creative practices to grab his students' attention.

Phil has a desire to make science education exciting and accessible for all students through hands-on experiments and creative teaching methods. In this episode, he explains those methods that help demonstrate real-world relevance of science to students. Additionally, he taps into the art of storytelling, and how to engage students who may have negative preconceptions about science. You'll also learn about the importance of tapping into technology as he shares his journey in becoming viral on TikTok.

To learn more about Phil's knowledge, recommendations, and passions within teaching, click the links in the comments.

You'll learn:

How to utilize social media to make science more approachable.
The importance of hands-on activities for elevating science education results.
Why critical thinking skills are crucial to navigate the ever-evolving world of technology.
Key Moments to Listen for:

[02:57] Phil's journey to teaching

[09:46] Phil's take on teaching science

[11:17] Examples of simple experiments and inquiry-based learning

[14:07] The importance of improving teaching strategies

[19:00] Why storytelling in science education help students retain knowledge

[28:19] Applying real-world challenges to education

[30:33] The obstacles of designing learning experiences

[33:02] Takeaways from the conversation
PHIL COOK

We want our kids to have good learning experiences. We want our kids to love coming to class even on days when they're tired, even on days when they're stressed. We want the learning environment to be a safe place, and we want it to be a place where they can be curious, they can ask questions and they can learn how to make sense of the world around them.

AMANDA BRATTEN

Education Uncharted is a show from Propello, a K- 12 teaching and learning platform that helps districts and teachers give every student a first class learning experience. I'm your host, Amanda Bratton, exploring the stories of courageous educators that have broken out of the status quo to chart new paths and boldly innovate in the ever- changing landscape of education. In today's show, we'll get to know our favorite chemistry teacher. Today's guest is Phil Cook, TikTok's favorite chemistry teacher who has been teaching for over two decades. Through memorable experiments on social media, he engages with learners from all over the world instilling a love of science and building curiosity in unexpected ways. So Phil, it's really good to meet you. Can you tell us a little bit about your school and the students that you're teaching and the situation that you're finding yourself teaching chemistry in these days?

PHIL COOK

So where I teach right now is very different than where I started off teaching, but the school where I teach right now is a co- ed boarding school. So we have about 860 kids, male and female from all over the world. A lot of them come from the Midwest, but a lot of them come from all over the United States and from Korea, from China. We have a lot of countries represented in the student population at our school, which I think is a really nice benefit to making a diverse of a classroom as you could possibly imagine. But they're boarding kids, so they live on campus and we spend a lot of time together. It's a lot more like a family educational environment than it is like a traditional day school kind of situation. And if you look at the demographics of the kids that are in that classroom, they strike me a lot like the same kids that I taught when I was teaching in Oak Park, which is a suburb of Chicago. It's not a school where everybody is there purely for a hardcore academic focus. We've got a lot of kids that are there for the leadership qualities at the school. We've got kids that are academically focused. We've got kids that are athletically focused. It's a big kind of heterogeneous mix of kids, all with their own kind of ambitions and goals for their education.

AMANDA BRATTEN

Why don't you tell us a little bit about your journey? How did you even decide to move into a career as a chemistry teacher? Where did that come from?

PHIL COOK

I didn't really start out thinking about becoming a teacher at all. My mom is a middle school, an elementary art teacher, and she was a teacher for 40 years before she retired. And my dad was a firefighter, so that was the blue collar background that I came from. And I knew that I was interested in chemistry because I had a phenomenal chemistry teacher in high school. Not only did she get me to love the science, but she also encouraged me to do experimentation on my own and gave me the freedom to do that. So I knew I wanted to pursue some sort of chemistry. So I started out going into chemical engineering at Purdue and I pursued that for about a semester. And I started to think to myself, " What do I want to do with this?" And most of the jobs at the time would've been going into the petrochemical industry or the pharmaceutical industry, working on pathways to develop new chemicals like new pharmaceuticals or pathways for processing petroleum into gasoline, diesel fuel, byproducts of petroleum distillation and that sort of thing. And I asked myself, " Do I want to do that?" And the answer was no. So I changed my degree to food science and because I thought, " Oh, let's look, let's get into chemistry of food," because I thought that was interesting and I tried that for a while. But I had an experience over spring break where I did some Habitat for Humanity style work. I got to work in a classroom of first grade kids. I just remember the kids after we were talking about science, about things dissolving and not dissolving, and they just come up afterwards and they just hugged onto me and I'm like, " This feels like something that I could get into." And so I changed my major to chemistry education and never looked back.

AMANDA BRATTEN

Amazing. Yeah, there's a chemistry, an emotional chemistry, and I think that's really interesting. We have a teacher shortage right now, especially in the STEM fields. So I wonder, just talking about that experience that you had where you realize, " Oh, maybe this is the space for me." How can we get more young scientists and engineers and mathematicians to consider teaching as a career?

PHIL COOK

Give them the opportunity to have that interaction where they share their experience and they get to see someone respond to it in real time. I think it's very different than in a traditional job trajectory where you might be looking at, well, what's the next stage? When do I get my next promotion, that sort of thing. With education, it's a lot more like I'm sharing a love for something that I value tremendously. I value science. I value experiences that help you to better understand the world around you. So if you give people that opportunity to get into a classroom or even just those kind of cross pollinating events where sometimes you bring people in and then they end up talking to kids and then those people were like, I never knew I could have a response from little kids or high school kids or whatever their age might be, where they really resonated with what I do on a day- to- day basis. And to me, might be very mundane, but to them it was exciting and they had all these questions. And that got me really interested in thinking about how I could better educate those people around me.

AMANDA BRATTEN

That makes a ton of sense. And I wonder if your current work, the work that you're doing now, not only in the classroom but your current work as chem teacher Phil, do you think that is, even though it's not a face- to- face interaction, you're definitely grabbing onto an emotional aspect of science and getting people involved and interested. What do you think about that?

PHIL COOK

So when you create content, you're putting something out there and then seeing how people respond to it. So from the viewer's perspective, they might see something they've never seen before or they might see something that kind of brings back a thought of, " Oh, chemistry, I hated that class." They have these very negative connotations that go along with that particular subject. So through the videos that are out there and that I can create, you bring this curiosity where you show them something that might be surprising to them, and then they start to ask questions through comments or through sending you messaging. And then they start to say, " Oh, I had the worst chemistry experience, but you got me thinking about this a little bit differently now." And so I think social media is a great way to kickstart those kind of creative juices of maybe I hated chemistry then, but now I think it's actually really interesting. And there's no penalty for being curious, right? There's no penalty for asking questions at this point that is very different than what the experience may have been like when you were learning science in a traditional classroom.

AMANDA BRATTEN

As educators, how can they employ some of those tactics in their own classroom? Is there a way that I can break down some of those barriers without having to create my own TikTok account?

PHIL COOK

Yeah, I don't think you have to have any presence on social media, honestly, to be able to be effective in the classroom. From my own experience, what I think has always worked well is you show things that are interesting visually to kids. You let them ask questions and then you ask them to apply. So you explain to them what's going on, and then you give them based on that discrepant event or that phenomena that you may have shown them before, you say, " Okay, if now you know how it works, show me that you can actually do it on your own." So giving them some ownership on the learning that they do. A lot of that can be through project- based activities that you do with them, or even experiments where they design their own experiment based upon some information that you've communicated to them. Anytime you give a little bit of freedom and autonomy to kids to take ownership on the learning that they engage in, I think you're going to have a better result. So in chemistry, we tend to look at the chemical reactions through three lenses. We look at what do we see with our eyes, what do we smell, what do we observe, that kind of thing. What do we feel if we can touch the container, if it's hot or cold, that sort of thing. So taking an approach where you are looking at it from multiple angles, I think is really important in education. But outside of all of that, if you're not getting kids to actually get their hands into science and do some science, I think you're doing yourself and your students a disservice.

AMANDA BRATTEN

So I'm hearing that inquiry piece, that really getting yourself into asking the questions, allowing students to play with, bringing in their prior knowledge. It really is starting with that, let's engage you right away. Let's give you something to think about. Let's give you something to ask questions about so that you can start digging in and do science or do whatever it is that's happening in your class that you're going in and you're doing that and not just in taking, right?

PHIL COOK

I can give you a very specific example that I think has a lot of applications in a lot of different avenues in science that is accessible to a wide range of kind of learners. So if you go to a dollar store, they sell these little packages, they're called wack a packs, and it's like a little square of plastic that says smack it, and then a balloon pops out. And that's literally what happens. So you smack it, and of course kids love doing that because if they're frustrated or whatever. I'm like, just imagine something that's frustrating, you get your frustrations out by smacking that pack with your fist and then they watch as it blows up, and then a balloon just explodes out. I'm like, quick, grab the balloon, feel it. And when you feel it, you'll notice it's actually cold, which is surprising to most kids. So they see that event, and what's really happening, there's actually, it's a very simple reaction. It's a double replacement reaction. There's an acid, and then there is a base which is baking soda in there, and there's a little packet of water that has some citric acid dissolved in it, but they don't know that. So what you can have them do based on that observation, what do they know at that point? They smack the package, a balloon pops out, it felt cold. That was their observations that kick off their exploration and say, " Okay, how could we learn more about what's going on in there?" Then you can have them do a dissection, give them another one and say, okay, this time don't smack it. Cut it open carefully. Get your safety glasses on, that kind of thing. Take it back in the lab. And what kind of tests could we do? Right now, depending on the course that you teach, there might be different avenues to explore with what you find inside. You'll see a liquid, you'll see a white powder. Depending on whether it's a high school level or like a middle school level event, you can tailor that to your needs. But regardless, you've got this discrepant event that you start with that allows for lots of avenues of exploring and explaining what they observed later on. And it's safe. But there's lots of experiments you can do like that, that are just using every day off the shelf kind of materials. And the chemistry can be actually quite complicated. So you can teach some pretty advanced topics and you can also just teach kids to be curious and to find ways that are appropriate for science to explore what they're curious about.

AMANDA BRATTEN

So I'm hearing you talk about this, and I'm thinking about the methods that you take to plan the way that you're going to teach this lesson and you're going to allow students to guide themselves and maybe the class as a whole through these questions and the types of things that you're going to explore. Have you always taught that way? Or was this a method worked into over time?

PHIL COOK

No, it's not at all the way that I've always taught. In fact, in thinking about coming on onto the podcast today, I spent some time reflecting back upon what it felt like to be like a new teacher. Because I've got 23 years under my belt at this point. It feels comfortable for me. I know about what kids are going to do on a given activity. I know what kind of mistakes they're likely to make. I knew none of that going into teaching. And when I first started out, I was teaching in Chicago. I had about 35 kids in a classroom. That limited kind of some of my options right there because it wasn't safe for me to do certain things with them. But nevertheless, I always wanted them to have an experience. So if there's anything that's been a common thread throughout my educational experience, it's been doing what I can to give them a lab experience and allow them some avenue to engage with their hands in the learning of science. Now, the way that has changed over the years, has progressed more towards getting them to learn some ideas and then apply those ideas where I couldn't always do that. But yeah, I think one thing that stands out to me in my memory is just how panicked I constantly felt as a chemistry teacher. I started my very first year teaching, I was teaching honors chemistry. I was teaching a regular chemistry class, and I had to teach a reading skills class, which I didn't know I was going to have to be teaching until three days before the school year started. So that one in and of itself was the most panic inducing. But I remember every night just working really hard on lessons, thinking about what was reasonable to get done in 42 minutes, and then just seeing if it worked. And then over time you learn, oh, tweak it here, cut the time down here. Make sure you give them three questions, not five to think about so that they actually have time to do them, build in time for questions, build in time for cleanup.

AMANDA BRATTEN

And so sometimes you can be that subject matter expert, but you then have to be the classroom expert in order to really feel like you can start getting into that comfort zone. What do you do in your classroom to try to do some of that cross- curricular work?

PHIL COOK

Currently what I do is I just take advantage of the fact that I know that kids are not, in general, very good at reading and digesting text. They tend to listen to things a lot more now. They tend to skim and they don't skim very well. So when you recognize that's the general kind of characteristic of the kids that you might be teaching, then you start to say, you build them a reading guide. You build them a reading guide where they're looking for specific things. You give them focus questions or you say, " I want you to pull out bold terms and you pay attention to those bold terms. And we're going to talk about terms that even though you wrote down the definition, you still don't know what it means at the beginning of class." It's a cop out to say, " Read and take notes over this," because you don't know if kids are actually good at taking notes or not. So what you can do as a teacher, at least for what I do, to get to know my kids a little bit better, I collect their notes and I read. They all read the same stuff. What are they taking away from it? Because that helps me to better understand where their strengths are in reading texts. And it allows me to have a conversation with them where I say, " Okay, you guys, you did a good job of looking at the bold terms. But that was because it was simple." You go through, you look for the bold terms, you look them up. But what are the bigger ideas there? The common thread that I get from kids to this day is that they'll say, " Mr. Cook, I read it, but I didn't read it. I read it, but it's like I didn't read it at all. I was just looking at the words and the words had no meaning to me." And I understand that from when I was in high school. That's how reading was for me. It was difficult. And I don't know what the explanation was, but I do know that now I've got better ways of addressing it so that we can say, " Okay, if that's the way that you read, fine. Take my advice. Do these strategies as you read, and that should hopefully improve some things."

I think that some of the strategies that you're talking about make a ton of sense, and I wonder if you find that, well, if a student is completing the reading and they're feeling a little bit of disconnect between the words that they're seeing on the page and their actual understanding of the concept, I have to imagine that after doing some of the explorations and the experiments within class, they might make some new connections there. So after you've done a little bit of hands on figuring out, does that text then become a little bit easier for them?

PHIL COOK

Yeah, I agree with that. And from my experience, if I typically take the structure of, I have them read a little bit of pre information about an experience that they're going to be doing in the lab, I always open up for questions. I'm like, okay, if you're reading this and you don't understand something, write a question. We'll take that first. Then they go do the experience. We typically will do a little bit of note- taking to break down the connection between what they did in the lab and what they'd read about previously. And then I might have them read something a little bit more advanced because now I've warmed them up with some background knowledge in their brain. They've not only read a lower level kind of description of the science, they've experienced the science, and now I'm asking them to look at it through a little bit more advanced lens and build and see what they can take away from that. And oftentimes that's been a successful way of teaching them new concepts in the classes that I teach.

AMANDA BRATTEN

Thanks for that. It's so valuable as educators to learn from each other and find out what's working in your classroom, what's working for your students, what's working for you as you work through your day so that we're all having improved outcomes. I'm making sure that my students are hitting the mark in what it is that they need to understand by the end of this class period or the end of this marking period, and I'm hitting my mark because I feel successful. I'm able to move through my day in a way that I don't feel burdened. And so it's always great to hear from other teachers things that are working for them, and then to think about how I can apply that in my classroom. And I'm wondering if you can just tell me insights that you've gained as you have grown your following as a TikToker, and what it is that you have found or maybe learned through the experience that you've been able to bring into the classroom or to share with others.

PHIL COOK

For me, I think the biggest takeaways that I've learned is it's always important to connect what you're showing to something that is accessible to the person that's watching it. So you can talk about something that is maybe a high level chemistry concept, but it's not going to resonate at least nearly as strongly as it could unless you tangibly connect it to something that person is familiar with. Now, of course, making viral content tends to be showing something that's very strange or most people don't have access to seeing easily because that's what makes us watch. A good example of this is I did a video a year or so ago, it was about firefighting. The subtext was firefighting. But the video started off with a shot of a helicopter that was dropping ping pong balls out of this little shoot into the forest floor. And I think my opening line on the voiceover was something like, " Why are they dropping ping pong balls out of this helicopter into the forest?" And it turns out that they're doing that from a forestry management perspective to light fires. So the ping pong balls were incendiary, so they would burst into flame when they hit the ground. And the reason why they were using a helicopter to do it is because it was a very mountainous region where firefighters could not easily access to do back burning. Typically with back burning, they would use what's called a drip torch. It's like a torch that drips flaming fuel, and they would use it to create a burn zone so that an advancing forest fire stops in it's tracks because all the fuel's been burnt out ahead of it. But sometimes you can't easily do that back burning in person. So if they have this contraption that takes ping pong balls, injects them with two chemicals that as soon as they mix, they ignite about 20 seconds later. And so the video was me basically recreating that in the lab explaining the chemicals that were involved and the oxidation and reduction process that caused the reaction. And then they saw me in my backyard. I made it so that it looked like the helicopter dropped one of the ping pong balls into my barbecue and then ignited my barbecue when it burst into flame. All of that theatrics was just to basically, number one, they're curious from the start because why are you dropping ping pong balls out? But then in the end, they realize it's something that's more of a conservation use of chemistry. We're using chemistry in this case to prevent forest fires from doing more damage than they might possibly. And I think with social media, when you have that mix of things, that curiosity, the little small lesson, the takeaway, and then the application, that's what makes social media effective and gets people to be interested in the work that you do.

AMANDA BRATTEN

Yeah, and it's interesting. So you're a high school teacher and these are kids who want to hear stories, right? I am sure that of all of your followers, it's not just high school kids wanting to know more about chemistry. We all want to hear stories. And to be able to learn a little bit about science encapsulated in a story, that's the way that we live our lives is we live through story.

PHIL COOK

Absolutely. The story actually helps people remember things much more effectively than just telling them a fact. If you give it context and value through the story that it's connected with, you make a stickier piece of information.

AMANDA BRATTEN

You can grab onto that, right? You can relate it to your own life. You can relate it to what you already know. You can take some of these complex scientific concepts and embed them in that schema of what the world is because I find connection. Fantastic. I wonder how your students have responded to your presence online. Have you noticed a change in the way that your students respond to you or the way that they approach science in your classroom now that you are a star?

PHIL COOK

I think initially when kids are new to my class, they probably come in with their own notion of, " Oh, I've only seen him on social media. I think he is like this." And then they realize, I'm not really like that. That's just social media. You're seeing the stuff that's been highly edited and scripted and is 30 to 35 seconds long. Life is a lot more than just that little snippet of space in time. But I think that they see some similarities in terms of how I approach a love of learning or being curious about the world around them and wanting to know a connection between what you're being asked to learn and why it might be of value to you within the real world. That I think carries through. Some kids can be a little apprehensive at first. I don't know why that is, but for some reason, if you're on TikTok and you have a following, there's a lot of value in at least the high school aged kids that I teach. There's a lot of value with that. And earned or unearned, it doesn't really matter if you have this perspective that if you're like a social media influencer that you have to be something like, not like a normal person almost. And they come in and they might be a little bit apprehensive to ask questions or to talk, and you just got to break down those walls and just be like, " Listen, I'm your teacher. I'm here for you. I'm here to help you learn, ask me questions. No, I'm not going to comment on your TikTok." I do get a lot of things like that. " Okay, will you like the TikTok? Will you like this?" But I'm like, " No, that's not why we're here. And I'm also not going to ask you to make TikToks for me in the class because the whole point behind that is to teach a lesson to people who don't have the opportunity to be here in class and learn. You have that opportunity to be here and engage directly. So let's do that. Let's do the best job we can with that."

AMANDA BRATTEN

Yep, absolutely. So I'm wondering how you see these emerging technologies, right? Social media wasn't around when we were in school, and now we're seeing the event of AI coming into the classroom, coming into just our daily lives. And I'm wondering if you've thought about how these technologies are changing the way that we live our lives and maybe how we approach learning in the classroom or science education?

PHIL COOK

I think there's definitely ways where just thinking of video in general, that video has enhanced the learning experience because you can provide access to things that you might never have given students access to in the past. I can show them whatever I'd like to show and not have to worry about safety or cleanup or prep, and that adds value because you can show them things that really bolster what they might be reading about and gives them that context that they wouldn't have had the opportunity to observe otherwise. And there's also a lot of really good platforms where you can design engagement, kind of little checkpoints within the content that you're developing and have kids respond in the moment so that you know that you're holding their attention. So from my perspective, at least outside the class, work has become a lot less reading and a lot more multimedia. So maybe there's a little bit of reading, but there's also a little bit of video and a little bit of critique of the video or responding to questions related to a particular video component. The thing that I think might be on the negative side of things is there's so much saturation of video. There's so much content that's out there with all kinds of mistakes and fallacies and errors and presentations that are misleading that unless students are critically thinking about what the video is showing them and the facts that are behind what's being shown to them, that they can very easily form misconceptions. So as a teacher, I take it upon myself to curate very carefully what my kids and my classes engage with in terms of video content. But I know that outside of my classroom, they're doing whatever they'd like to do on their phones or watching the kind of media that they'd like to watch, and that no doubt has an effect upon them.

AMANDA BRATTEN

And I think you're right, that critical thinking piece, evaluating, is this a reliable source for my understanding of this concept? Or is what I'm seeing in this video real, does it connect with what I know about the rest of the real world? Is absolutely a piece that we as educators need to help support students in understanding and trying to develop the ability to use that critical thinking brain as we work through and move through our days. How are you allowing students to take what they've learned in your class and evaluate what they're seeing in their lives, and then critically diving into what is real and what might not be real?

PHIL COOK

I think really for me, that's a two- part consideration because on one hand, I'm very deliberate in the work that I have students do from a critical thinking perspective. And every kind of, at least the core structure of the chemistry classes I currently teach, we have what's called a challenge. After every unit of study, there's a challenge, and the challenge is always based on the real world. So a couple of examples. We have them compare different fuels from a carbon dioxide emission standpoint and an energy comparison, and then they use that to say, why would it be a good idea from a climate perspective to choose fuel X compared to fuel Y? From an energy perspective, how would that argument change? That's one lens that we can take, and that's something for me as a chemistry teacher that I apply to every single unit that I teach students in. But I think more broadly, the whole consideration of how you evaluate the validity of what you read on the internet or what you see on the internet, that is very troublesome to me because there's so much massaging of data, massaging of video, of voices, AI and ChatGPT have broken down barriers and made it very easy to ask a question and get a detailed answer from a computer that has read the internet and can distill it down into an answer. But if you take that as truth, that's the problem. If you're a kid and you're trying to do homework, for example, and the teacher asks you a prompt, if you're like, " Hey, I can save some time. I'm just going to put in ChatGPT." They past that question in, and it may give them a decent explanation. And if the kid doesn't read it and they just copy and paste, it does them no value. They've learned nothing other than how to use a functionalized, computer powered AI search engine. I think how do we teach to that? How do we teach them to be critical thinkers? That is the challenge of education now.

AMANDA BRATTEN

It's such a new conundrum in the classroom and in reality, that we're all trying to figure out exactly what that looks like, understanding that this tool is not going away.

PHIL COOK

Yeah.

AMANDA BRATTEN

It's here, and we need to figure out how we can coach students to make the right decisions to use whatever tools they have appropriately. I think we're all going to be learning from each other and finding what works well and what doesn't over the next several years-

PHIL COOK

That's not a bad thing. It's not something that they should be scared about, but it is something that they should understand that everything has faults, everything has limitations, and you have to be able to diagnose what those limitations are and recognize that you can't trust everything. The student has to be like, " Okay, I value this. I want to understand that. I want to see if I agree. Do I agree with what this artificial intelligence is telling me?"

AMANDA BRATTEN

It seems to me that as educators, our job is to also ensure that these kids are finding value in what we're talking about and what we're doing and what we're figuring out in a classroom. And it's, like I said, it's always a plus to be able to share these ideas with each other and say, " This is what's working for me. Maybe it's going to work for other people too," so that kids can see the value in wanting to know more and wanting to evaluate and not just settle for this will be good enough.

PHIL COOK

Yeah. I think if anything that you can do as a teacher to have something be intrinsically rewarding where it's just, it feels good. " Oh, I was successful in doing this particular challenge. That feels great, and what did I have to do to be successful? I had to do X, Y, and Z, and I had to really push myself, but it feels so good to know that I did it myself." Those kind of situations that we as teachers can design experiences for, absolutely.

AMANDA BRATTEN

Yep.

PHIL COOK

We want our kids to have good learning experiences. We want our kids to love coming to class even on days when they're tired, even on days when they're stressed. We want the learning environment to be a safe place, and we want it to be a place where they can be curious, they can ask questions, and they can learn how to make sense of the world around them. It's definitely a mix of both, kind of a cooperation between the teacher and the student.

AMANDA BRATTEN

Absolutely. Mr. Cook, this has been a fantastic chat. I am so grateful to have you here today chatting with us. We're really looking forward to sharing your knowledge with the rest of the listeners here on our podcast, and I hope that we can touch base with you again sometime soon and have another chat sometime soon.

PHIL COOK

Sounds good. I appreciate you having me on.

AMANDA BRATTEN

All right, well, thanks so much.

PHIL COOK

Thanks, Amanda.

AMANDA BRATTEN

Wow, I learned so much from Phil today. Here are a few takeaways from our conversation. First of all, Phil's social media presence has allowed him to give learners a safe place to explore science and build curiosity. We need to bring that same safety and inquiry- driven approach to our classrooms, giving context to our content, whether it's science or another subject area, seeing it in action and exploring it in hands- on ways, giving concepts a story. This is what helps our content resonate in ways that last long after class ends. Next, Phil's practice, it's changed over the years. He's learned from experience what works and what doesn't. While it may seem easy for him today, his early years of teaching were stressful, filled with long days and lots of trial and error. The best educators are always seeking ways to improve their practice, knowing that not everything will be a hit. The try, fail, learn, repeat mentality and leaning into that discomfort of the new or unknown, that's an opportunity for growth. If you're interested in learning more from Phil and checking out some of his experiments, you can find him on a social media platform near you at the handle, chemteacherphil. I'm Amanda Bratton. For more conversations with bold educators exploring uncharted territory, click the link in the show notes or visit propello.com/ learn to learn more.
Get Early Access to the Next Episode
Join our newsletter to stay in the know