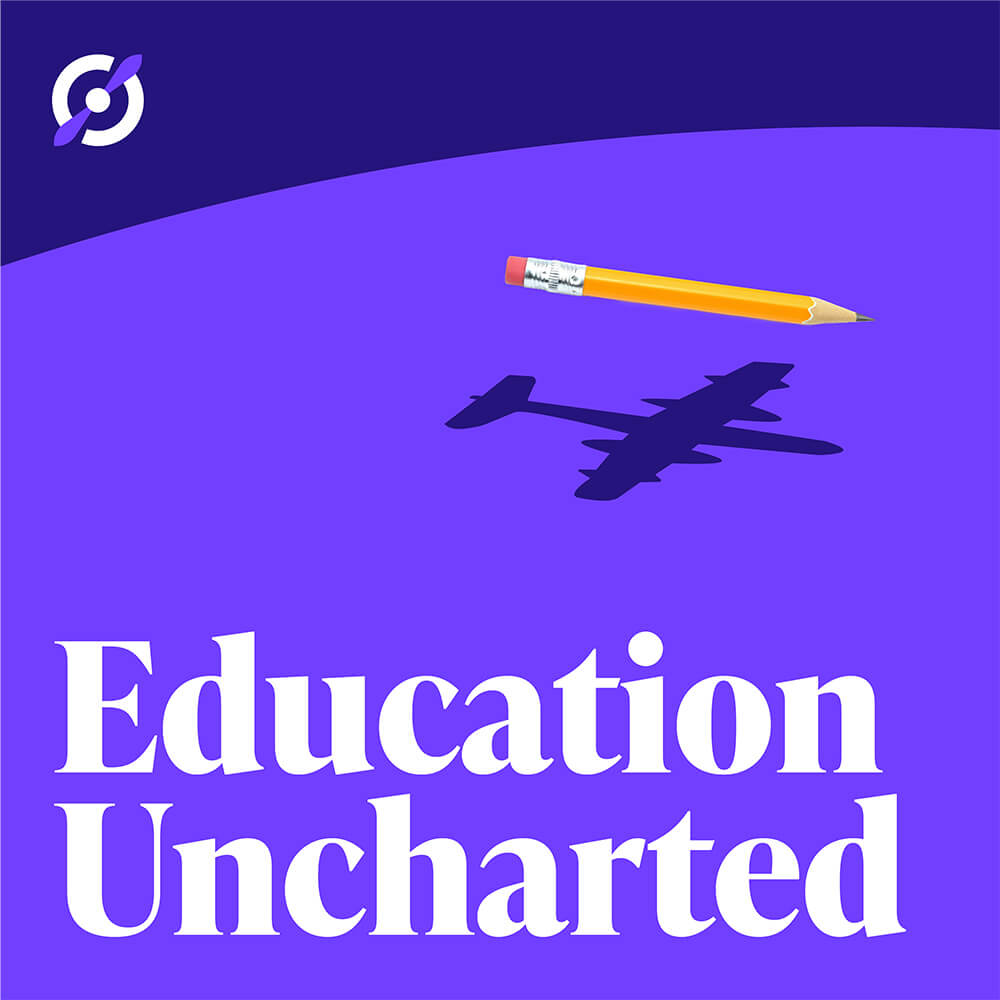 A Podcast for K-12 Educators Daring to Shift the Status Quo. Now streaming on:
Hear from Education Innovators
Making Learning Relevant and Exciting for Students
Featuring Dr. Tonya Clarke
From mathematics to literature, the world of learning is full of endless discovery. Beyond memorizing facts and figures, learning is made meaningful when it is made relevant. This shift in our teaching approach is essential to help our students build a solid and genuine understanding of their learning materials.
Join host Amanda Bratten as she sits down with a trailblazer in education, Dr. Tonya Clarke, Mathematics Coordinator at Clayton County Public School System. Driven by a profound belief in the power of educational practices., Dr. Clarke has reimagined the classroom experience. From cultivating perseverance and problem-solving skills to instilling precision and deeper understanding, her teaching philosophy transcends equations and formulas. She equips students with the tools to decipher structures, enabling them not only to solve math problems, but to craft their own equations with newfound confidence.
Join us as we discuss Dr. Clarke's teaching strategies that have reshaped the landscape of math education in her district and explore how her innovative approach is equipping students with skills that transcend the classroom and extend into their broader lives.
You'll learn:
Why it is important to make learning relevant to students' lives. Understanding their interests and connecting lessons to real-world applications can significantly increase engagement and motivation.
How to support teachers in structuring lessons that resonate with all students. Support should extend beyond training and include planning, coaching, and modeling.
The importance of creating connections between the classroom and the world outside, and how fostering a positive attitude towards education and creating a collaborative learning environment can help students be successful.
Listen to the full episode
Key Moments to Listen for:
[01:58] How Tonya's career shift lead her to teaching math
[10:48] Student's lack of interest in math and how to make it relevant in everyday life
[17:08] Progress in math education and student engagement
[20:51] The importance of internal training for teachers to help success of students
[30:23] Takeaways from the conversation
Redefining Success and Accountability in Education
Featuring Anthony Vargas
Creating an inclusive learning space for all students is quite a challenge, and even experienced educators are still grappling with meeting every student's needs.
Join host Amanda Bratten and special guest Anthony Vargas, a passionate advocate for talent development and equitable education, for an exciting conversation about the needs of gifted and advanced learners. We'll also delve into the significance of adopting a growth mindset.
In this episode, Anthony highlights the lack of formal training for teachers and its repercussions on underserved students. We'll also explore Anthony's three-pronged change process for success, which involves policy, accountability, and support.
As a teacher, administrator, and student, Anthony inspires us to introspect on our contributions to inequities and take action to foster a more inclusive and nurturing education system. Get ready to dive into this thought-provoking conversation and discover how we can all play a role in shaping a brighter future for our students.
You'll learn:
How to challenge old ways of thinking to create a more inclusive education system in our ever-changing world.
Why it's crucial for all stakeholders to collaborate and tackle problems head-on.
The importance of improving professional development and its positive impact on classrooms and teachers.
Listen to the full episode
Key Moments to Listen for:
[1:34] Anthony's journey in gifted education
[4:01] The importance of appropriately challenging education for students
[12:18] Room for improvement: Addressing inclusive education for underrepresented students
[19:26] How to shift your mindset, and the benefit of action-focused talent development in education
[30:49] Clear communication: Creating processes to proactively engage with students and parents
[32:42] Why it takes teamwork to address inequalities and promote change in education.
[33:12] Takeaways from the conversation
Creating Schools Where Every Student Belongs
Featuring Luma Mufleh
Education is all about community. Every student needs a support system they can rely on.
In this inspiring episode, host Amanda Bratten sits down with Luma Mufleh, an activist, author, entrepreneur, and founder of Fugees Family, the only network of schools in the U.S. dedicated to refugee and immigrant education. A Jordanian immigrant of Syrian descent, Luma shares her personal experiences and how they have fueled her unwavering commitment to empowering refugee and immigrant children through education.
Throughout the conversation, Luma imparts invaluable lessons on creating change. She emphasizes the importance of not taking no for an answer and fearlessly advocating for what is needed to ensure the success of her students.
You'll also learn:
How to keep students at the heart of your efforts
The importance of incorporating art, movement, and song to bring joy and success into each student's day
Why embracing learning methods outside of traditional school work can foster excitement, inclusivity, and a sense of belonging in the classroom
Join us as we delve into Luma Mufleh's journey, her inspiring work, and the powerful message she conveys through her books, "Learning America: One Woman's Fight for Educational Justice for Refugee Children" and the newly released memoir, "From Here." Prepare to be inspired to make a difference.
Listen to the full episode
Key Moments to Listen for:
[01:45] Luma's background and education journey
[09:40] Opportunities for change in education post-pandemic
[13:16] How Luma's interactive school program helped students be successful
[16:45] The importance of a safe space, inclusive events, and relationships
[24:21] How sports and teamwork promotes discipline and teamwork in school
[28:40] Why accessibility to sports and arts are essential to learning
[34:39] Takeaways from the conversation
Stay Connected with Luma
On Instagram - @luma_mufleh
On LinkedIn - @lumamufleh
On Twitter - @LumaMufleh
On Facebook - @coach.luma
Culture and Connectedness
Featuring Peter DeWitt
A school's culture and connectedness play a vital role in establishing an exceptional learning environment for students. It is the shared responsibility of teachers and principals to actively maintain the health and well-being of this environment.
Join host Amanda Bratten for an insightful conversation with Peter DeWitt, leadership coach, EdWeek contributing author, and former teacher and principal, as they discuss building healthier and more effective teams within a school.
In this episode, Peter shares his experience on topics such as success criteria, collective efficacy, teacher autonomy, and developing a collaborative learning environment. Along the way he emphasizes the importance of intentional planning and measuring the impact of decision-making, while also sharing practical tools for enhancing communication and engagement during presentations and workshops.
Through Peter's first-hand experience, learn how trust and honest feedback are crucial for creating a culture of connectedness and taking something from good to outstanding.
You'll learn:
What is "De-Implementation" and why it is important in education.
Strategies that teachers can use to ensure their actions are impactful.
How teachers can ensure they have more autonomy in their own learning and teaching.
Listen to the full episode
Key Moments to Listen for:
[02:06] Journey of coaching teachers
[03:07] How Peter found teaching
[13:05] Overcoming struggles, creating a positive environment, and gratitude
[19:52] De-implementation - abandoning low value practices
[27:26] Calendar your time, analyze what's necessary
[32:29] Streamline work, focus on impactful elements, engage audience
[40:14] Listening more: How to give teachers a voice
[47:15] Good teaching: Success criteria, adaptability, collaboration
[46:27] Takeaways from the conversation
Stay Connected with Peter
On the web - petermdewitt.com
On Instagram - @peter_dewitt518
On LinkedIn - @Peter DeWitt, Ed.D.
On Twitter - @PeterMDeWitt
On YouTube - @pmdewitt
Language as Power
Featuring Sarah Ottow
Language is more than just words – it holds the key to extraordinary opportunities and endless potential for our students.
Join host Amanda Bratten in a captivating conversation with Sarah Ottow, a renowned educator and author of The Language Lens for Content Classrooms, as they delve into the transformative power of language.
In this episode, Sarah shares her expertise on the intricate art and science of language learning, emphasizing the dedication and sustained effort required from all stakeholders. Along the way, you'll discover the significance of empowering teachers to shape language learning pathways and the necessity of internal collaboration within educational communities.
Through Sarah's inspiring words, we learn how immersing oneself in diverse perspectives and experiences can enrich teaching practices and facilitate language learning in diverse classrooms. Ultimately, she reminds us that, regardless of our backgrounds or languages spoken, we share a common human experience and a passion for education.
You'll learn:
How to create exceptional opportunities for students who speak different languages.
The importance of engaging students in co-constructing their language learning journey for an inclusive classroom environment.
Why you should prioritize collaboration, autonomy, reflection, and diverse experiences to enhance teaching and support diverse classrooms.
Listen to the full episode
Key Moments to Listen for:
[01:20] Sarah's journey to teaching
[04:06] Sarah's experience learning a new language
[07:51] An explanation of academic language learners
[11:53] A summary of The Language Lens for Content Classrooms Guidebook
[13:33] How to demystify command of language
[24:19] Successful adoptions of the academic language learner experience
[27:10] How to improve as a teacher
[33:38] Takeaways from the conversation
Stay Connected with Confianza
On the web - ellconfianza.com
On Facebook - @ell_confianza
On Instagram - @ellconfianza
On Twitter - @ellconfianza
The Art of Storytelling
Featuring Phil Cook
Teachers face an uphill battle as they strive to engage students and facilitate meaningful learning. Additionally, each student possesses a unique learning style and pace, making it difficult to design a one-size-fits-all approach to teaching.
TikTok superstar, Phil Cook, joins host Amanda Bratten to share what he's learned within his many years of teaching. For over two decades, Phil has learned what drives his student's overall retention, which led him to integrate creative practices to grab his students' attention.
Phil has a desire to make science education exciting and accessible for all students through hands-on experiments and creative teaching methods. In this episode, he explains those methods that help demonstrate real-world relevance of science to students. Additionally, he taps into the art of storytelling, and how to engage students who may have negative preconceptions about science. You'll also learn about the importance of tapping into technology as he shares his journey in becoming viral on TikTok.
To learn more about Phil's knowledge, recommendations, and passions within teaching, click the links in the comments.
You'll learn:
How to utilize social media to make science more approachable.
The importance of hands-on activities for elevating science education results.
Why critical thinking skills are crucial to navigate the ever-evolving world of technology.
Listen to the full episode
Key Moments to Listen for:
[02:57] Phil's journey to teaching
[09:46] Phil's take on teaching science
[11:17] Examples of simple experiments and inquiry-based learning
[14:07] The importance of improving teaching strategies
[19:00] Why storytelling in science education help students retain knowledge
[28:19] Applying real-world challenges to education
[30:33] The obstacles of designing learning experiences
[33:02] Takeaways from the conversation
Teaching Content vs Skill
Featuring Natalie Wexler
Writing skills. We all know it's important for students to have, but what's the best approach and how do you teach them in a way that's both interesting and impactful?
Author of The Knowledge Gap, Natalie Wexler joins host Amanda Bratten to share what she's learned in her research and observation. It all started when Natalie discovered the lack of coverage of education reform in DC, which inspired her to write about education to help teachers blaze a new path forward.
In this episode, she shares how long-term memory storage of relevant information helps relieve the burden on working memory, allowing for better understanding and retention of new information. She also discusses the Hochman Method of writing that she covers in the book she co-wrote with Judith Hochman, The Writing Revolution, and how this method reinforces existing knowledge in a practical, but interesting way.
You'll learn:
How to improve students' reading comprehension by teaching content knowledge along with reading skills
How to encourage knowledge building through writing
Why reorganizing classroom libraries by topic, not just reading level, will help your students' comprehension skills
Listen to the full episode
Key Moments to Listen for:
[02:01] Getting to know Natalie
[03:38] Inspiration for writing The Knowledge Gap
[07:21] Comparing skills-focused with knowledge-building curriculum in early elementary classroom
[13:21] A good curriculum focuses on building knowledge logically through read-alouds and discussion
[18:54] The value of content-based questions and organizing classroom libraries by topic
[25:51] Reinforcing methods from The Writing Revolution